Getting more leads from your website is the goal for every business out there, even the large, established, and already successful businesses are constantly working on ways to get even more leads every day. Some may think that generating leads requires a lot of money, connections, or a degree, but that's not always the case. Despite the fact that it can often be an overwhelming aspect of your business, generating leads doesn't have to take as much effort or time as you may think.
In fact, there are 5 stupid simple ways to get more leads from your website, even if you're a web design noob – and since we're sharing actionable advice that anyone can implement right now even if you don't know jack about websites, we've listed these ways below to help as many people as possible increase their leads. What are we waiting for? Let's do this!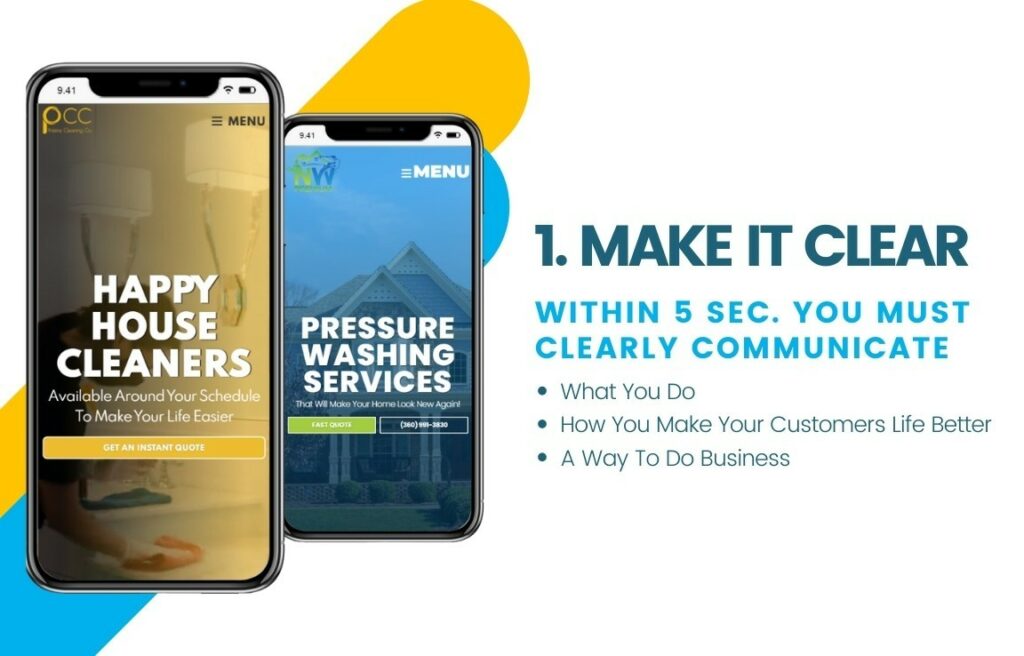 1. Clarify Your Message
Any visitor to your site should know exactly what your business is about within the first five seconds. What you are, what service you provide, or what products you sell should be clear, concise, and right in their face. Since you only have a few seconds to capture your visitor's attention, you need to make those seconds count. If it's not obvious or clear what it is you do or how you can make their life better, they will be gone. People aren't interested in scrolling through multiple pages or reading several paragraphs to understand what you're providing so if that's how your site is set up now, you need a serious revamp. Your potential customers want the quickest, simplest way to understand your business and how to work with you, so give them what they want. A great way to find out if your message is clear enough is to hand your phone or laptop to a stranger and ask them what they think about this website. You should only show them the hero section of your website, which is that top section you see without scrolling at all. They should know what you do and why people should hire you all from that section alone. Don't be witty, don't be clever, and definitely don't be long-winded. Tell me what you do BIG, BOLD, and LARGE, and then beneath that, tell me how you're going to make my life better after that offer me a way to do business with you in the form of a call to action. That's it! Get this done right and you'll instantly increase your leads.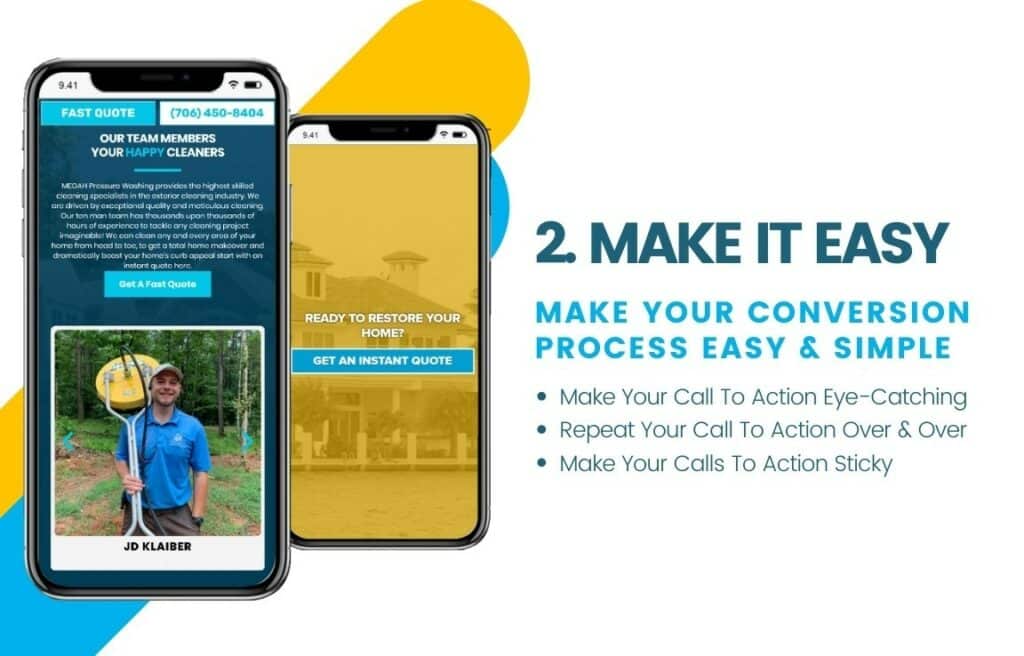 2. Have an Easy Conversion Process
Since the aim of your site is to generate more leads and make more sales, you need to ensure your conversion process is fast and simple. In today's world where people can usually get anything they want quickly and easily, people no longer have the patience to be navigating through long sales processes, submitting useless information, or taking any steps that they deem unnecessary. If you make your conversion process even slightly complicated or require more information from the customer than is reasonable, then expect them to click off and go somewhere else. The process needs to be quick, simple, and intuitive. What does your website exist to do? Receive lead applications! That's it! If any aspect of your website isn't contributing to this effort then it's not serving you!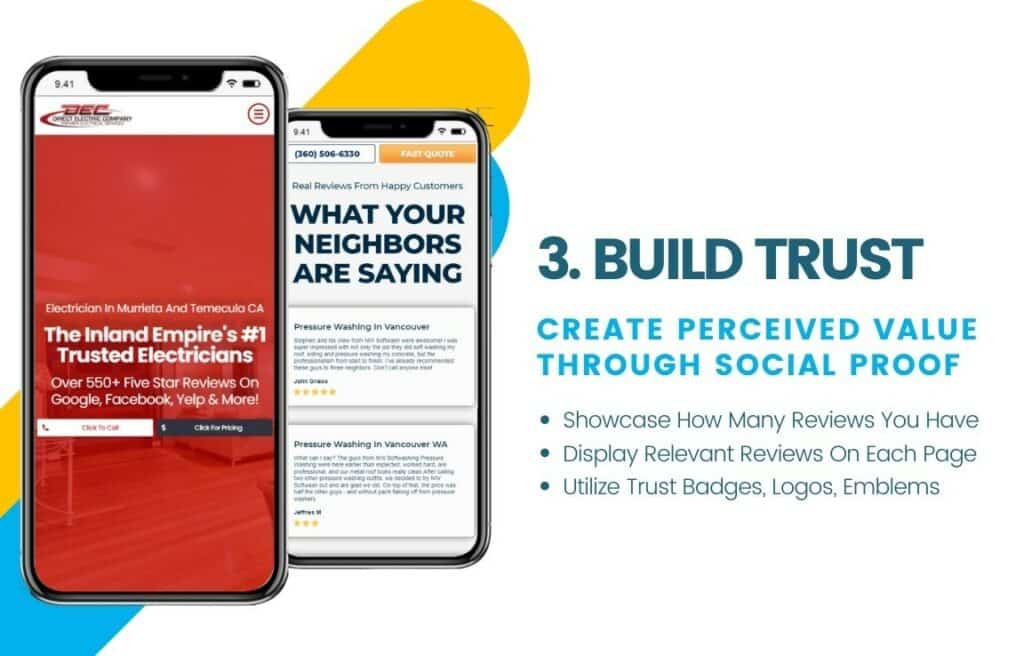 3. Build Trust Through Social Proof
Social proof is there to show that customers have used your company and, in turn, this makes other people feel safe using you as well. Social proof comes in the form of reviews, comments, testimonials on your website, and interactions on your social media pages. These proofs are the perfect way to build trust with potential new customers and increase your perceived value. When people find a site they haven't used before, the majority will then seek out social proofs to determine whether they can trust this company or not. If you have a good amount of reviews and interactions online in various places, people will feel at ease, trust you more, and then be more likely to use your services or buy your products. Displaying relevant reviews on each core page of your website is also an SEO boost as you will be cranking out more hyper-relevant content onto your landing pages.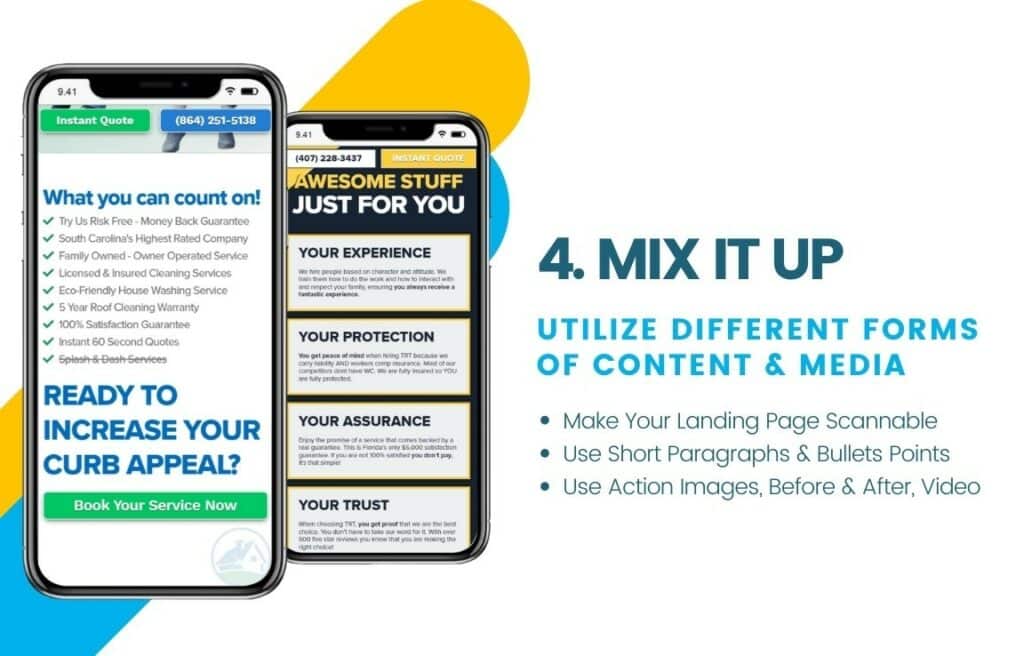 4. Mix Up Your Content and Media
Different people like different things; for example, if someone had an iPhone screen that needed fixing, one person would search online to read a blog post about how to fix it, while another would search online for a video of the same topic. Some people like to take in content visually, others audibly, some like graphics, others snippets of information. Since there are so many different types of people to cater to, you should mix up your content and media to ensure there is something for everyone. Have visuals, graphics, blog posts, short writings, videos, and anything else that will suit your visitors.
On another note, it's also important to make your site scannable when it comes to any text you have on there. Every day, we are bombarded with information online and offline, so much so that it's impossible for us to take it all in – so we don't. Instead, when you are greeted by a wall of information or a post of text, the majority of people will scan the information looking for keywords in order to piece together the relevant bits rather than wasting time, or brainpower, by reading each word. Use keywords in all your text to make sure that a visitor can scan any piece of information and know exactly what they need to know at the end. Utilize bite-size information but emphasizing bullet points or mini paragraphs. This will help you communicate your value more effectively to more people, winning you more leads on your website.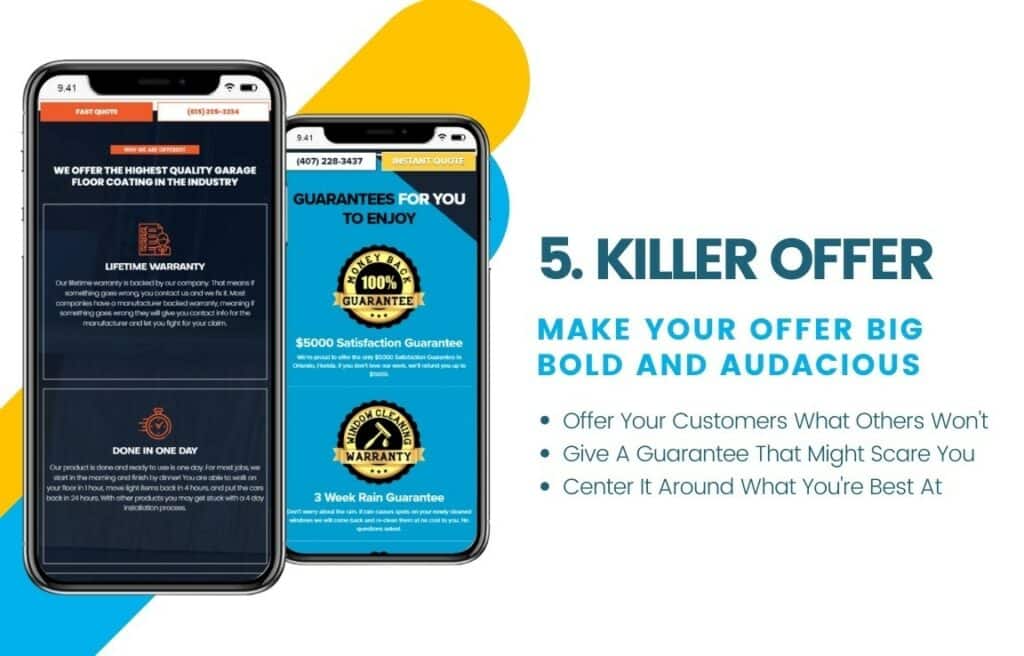 5. Present an Irresistible Killer Offer
One of the easiest ways to generate leads is by doing something your competitors can't. Presenting your visitor with a killer offer that they can't find anywhere else almost guarantees that they'll buy from you. After all, why would they go elsewhere when you have the better deal? However, since no matter what industry you're in the market will be full of other companies doing or selling the same as you, your offer will have to be big, bold, and audacious to draw attention and convince customers that they don't need to go anywhere else.
To achieve this, you may have to take some money from your bottom line, especially if your offer is providing services for free for a certain period of time, or having mega discounts, however, you'll quickly build a reputation as the place for people to go and you can end up dominating your market. Less profit now can mean more sales in the future which is exactly what you want. You also don't need to take the best deal approach, although it may work, what suites more people is to offer the greatest value. Value stack your offering by offering more or unique things to your marketplace and you can then make price irrelevant, you're offering something nobody else does. This will take some time for you to develop but it will be time well spent.
Website Conversion Optimization
Get a Free Site Audit & Increase Your Profitability
Let us show you areas for dramatic improvement on your website. We offer free and a paid website audit services.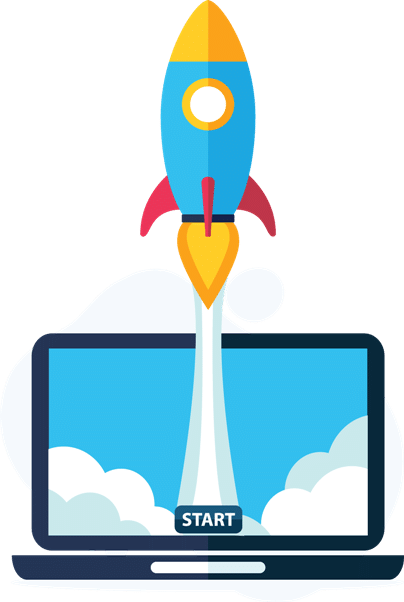 Let's Wrap it Up
Lead generation doesn't have to be as taxing or overwhelming as you may assume. Rather, with the right strategies, even the most technically inept people can get ahead of the game – and what's more, it doesn't have to take a lot of money to do it. For a business to be successful, lead generation will be an ongoing process; as we said at the beginning, even well-known companies are continuously working on generating leads daily. However, with these simple steps, this ongoing process doesn't have to add any extra stress to your working life. Implement these 5 strategies and watch your website leads dramatically increase! Cheers to your bottom line increase more and more!
FREE Website Consultation
Book A FREE 15 Minute Strategy Call With Us
Let's talk about your business and your website needs. We'll show you how we can help and answer any questions.